Octinion
PRESS RELEASE: opening of our new building
21 June 2017
Last week, we officially opened our new building: about 1800 m² ready to support our growth plans. 
Octinion empowers its growth: 1800 m² of offices and workshop officially opened
Octinion's new offices opened festively on Thursday 15 June in Haasrode's Research Park. Next to 500 m² of renovated offices, the Leuven-based R&D company expanded its offices and lab space with another 700 m² and a brand new workshop of 600 m². The renovation gives space to over 50 employees and prepares Octinion for a solid growth in the coming years.
Octinion's story started back in 2009, when founder and CEO Tom Coen had the idea of starting an R&D company focused on the agriculture and food industry. The company moved to Leuven where it decided to invest in a new building at Researchpark Haasrode back in 2016. Eight years after its start, Octinion now has about 20 employees, next to 10 vacancies still waiting for candidates. 
Growth is impossible without space, that's why Octinion invested in the construction of its new wing. Together with Agoria CEO Marc Lambotte, Tom Coen opened the new wing in the company of Octinion's workers and about 100 attendees. Next to 500 m² of already existing, renovated offices, another 700 m² of offices and lab space and a brand new workshop of 600 m² were added. The renovation gives space to over 50 employees.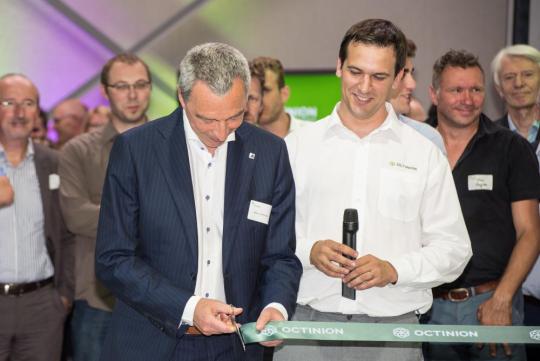 Focus on strawberry picking robot
Octinion's goal for the upcoming years is clear: create a revolution in agriculture by introducing new technology, such as its strawberry picking robot. "Initially, we thought our market would mainly include Europe, but after introducing our prototype last year, there seemed to be a large demand worldwide for our robot, from the US to China", Tom Coen adds. 
Next to picking robots, Octinion also focuses on commercial and own projects, always combining technology and biology. Tom Coen: "This varies from autonomous vehicles able to navigate on different soils, picking and treating crops and even determining food characteristics."
______
Download the press release (in Dutch)