Octinion
About us
Octinion is an innovative R&D company mainly active in the agriculture and food industry
Our story
Our story
Our mission at Octinion is bringing innovative automation solutions to our customers. We take on mechatronic product development projects, and we have a line of test & measurement solutions. Some of our core values are:
"Make things as simple as possible, but not simpler" (Albert Einstein)

Our customers are our partners

Quality & service
Octinion is a first-generation family business, controlled by its founders. We're driven by creation, and believe it's essential to think out of the box to create truly innovative new applications. 
Our team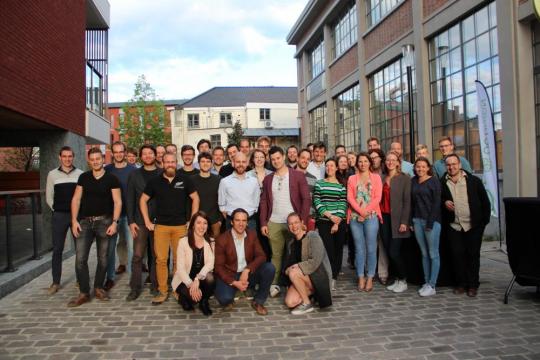 Our team consists of experienced engineers and technicians, all experts in their field. We are driven by technology, and are experienced in thinking out-of-the-box to solve any problem that comes our way. We have experts in mechatronic system design, electronics, embedded software, vision systems, test & measurement and control technology.
If you are eager to join a dynamic environment, creating the products of the future, check out our jobs page!
Our management team is a mix of people with different backgrounds but with one common passion: they're all driven by creation. Meet the team members:
Management
CEO

Tom Coen

COO

Marc Coen

Marketing & Administration

Steffi Verheyden
Our history
Some of the milestones for Octinion
2021
Robotic activities merged with Priva

Priva and Octinion join forces and merge their horticultural robotics activities. By combining their expertise and technology, they will create a strong and pioneering technology company whose core business is innovation in horticultural robotics in an international market that is experiencing strong growth.See press release: http://www.octinion.com/news/press-release-priva-and-octinion-combine-ro...

Nominated Trends Gazellen 2021 Medium sized companies

Yet again Octinion ranks highly in the Trends Gazellen, this time in the category of the medium sized companies. We're very proud to rank 4th in the province of Vlaams-Brabant!
2020
Product launch of Lumion (UV-C treatment)

Lumion fights powdery mildew on crop like strawberries with UV-C light. The fungus specific DNA absorbs the UV-C light, thus avoiding damage to the crop, which will decrease the pesticide residue. 

Trends Gazelle Ambassador 2020 (Vlaams-Brabant)

Trends awarded Octinion as "Gazelle" in the category "small companies" in Vlaams-Brabant. This prestigious nomination rates fast growing companies based upon 3 growth criteria: revenue - personnel and cashflow. We're very excited with this award! 
2019
Awarded sector winner at Deloitte's Fast50

In Deloitte's 2019 Technology Fast 50, the list of the fifty fastest-growing technology companies in Belgium, Octinion was awarded as sector winner in the category Hardware. The ranking recognises and ranks the 50 fastest-growing companies in Belgium based on revenue growth over the last four years.

Start of our offices in The Netherlands

Octinion has just launched Octinion The Netherlands with an office at Campus Greenport in Venlo. 

Test Center for strawberries installed in Leuven

Octinion has built its own Testing Facility for its different robotic solutions for strawberry harvesting, with the help of a number of partners. A place where different aspects of strawberry production are being reviewed in the light of robotization.

Official product launch of our strawberry picking robot

We did it: we're the first company in the world presenting a commercial strawberry picking robot! We're presenting our robot, which will be available under the name Rubion, at Fruit Logistica in Berlin. 
2018
Growing fast… just signed our 40th innovator!

When we say we're growing, we're serious! In September our innovation team will be counting at least 40 people!

Won the "Best Innovation Award" at the UK Digital Pitching Event in Brussels

We were awarded for "best innovation" at a competition organized by the UK Department for International Trade

Called third fastest growing company in Vlaams-Brabant according to Trends

Octinion Agriculture office opened in Roeselare

Our second Belgian office has opened its doors
2017
Our 25th employee joins the team

We're officially 25 now! Over the last couple of months, several engineers have joined the team. At least five more will join soon and we're still recruiting! 

Official opening of our new building in Leuven

We festively opened our new building on Thursday 15 June 2017. Next to the 500 m² of renovated offices we already occupied, we expanded our offices with another 700 m² and a brand new workshop of 600 m². The renovation gives space to over 50 employees and prepares Octinion for a solid growth in the coming years.
2016
The prototype of our strawberry picking robot is introduced

During the International Strawberry Fair at Hoogstraten, we present a prototype of our fully autonomous strawberry picking robot and of our autonomous platform, Dribble. 

Octinion moves to the Interleuvenlaan in Heverlee

To support and facilitate our growth, Octinion continues to invest in its own infrastructure. We move to a new location: Interleuvenlaan 46, 3001 Heverlee. We move into newly renovated offices while we build new and bigger office space, labs and a workshop for our own production facilities. 
2015
Our 10th employee is on board!

Welcome to the team, Dries! 

INDUCT rebrands to Octinion

On its 6th birthday, INDUCT changes its name to Octinion. The name Octinion represents how we bring innovation in complexity. Octinion is derived from Octonion, which are a 8-dimensional type of complex numbers. 
2014
Start of the development of an autonomous strawberry picking robot

Next to projects for clients, we have the ambition to build our own products. We start with an ambitious project: building a picking robot for strawberries. 
2011
Our offices move from Zaventem to Leuven

The proximity to the university facilitates recruitment and the collaboration with the university on R&D projects.
2009
INDUCT was officially founded

In April 2009, INDUCT was officially founded by Tom Coen, Jan Anthonis and Wouter Saeys. Tom was initially the only one active in the company, starting up an office in Zaventem. 

INDUCT stands for innovation. The name is a combination of the first two letters of innovation with 'duct' meaning 'to lead'. Our aim is to lead innovation to build bridges between for example universities and companies.

Initially, we focus on the agricultural industry, thanks to decades of combined experience of the founders in this sector.  
Our office locations